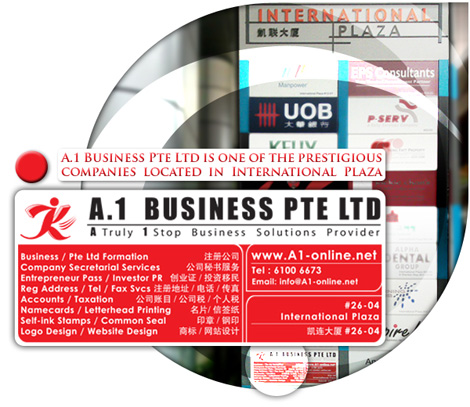 We offer Singapore Company Registration / Company Incorporation Services that our customers can purchase to get their businesses up and running in a short period of time yet at budget prices.
Apart from Singapore Company Registration, we offer a wide range of services which includes:  Singapore Business Registration for Sole-proprietorship or Partnership Registration, LLP Registration, Company Secretarial services, Singapore Virtual Office Services, Entrepreneur Pass and Employment Pass Applications, Name card Printing Services, Self-ink Rubber Stamps, Logo Design, Web Design Services making A.1 Business Pte Ltd a "A Truly 1 Stop Business Solutions Provider".
Singapore Company Registration Package includes:
* Professional Fees for Incorporating Company
* ACRA Company Name Reservation
* FREE Share Certificates
* FREE Business Information Profile
* FREE copies of E-Certificate of Singapore Company Incorporation
* FREE Resolution to open the bank account
* FREE 1 Round Self-inking stamp
* FREE 1 Year Corporate Secretary Services
- Preparation of Minutes of 1st Board of Directors' meeting
- Preparing of Resolutions, Assisting in Opening of Bank Accounts and lodgement of Company Changes
- Preparing Minutes of Annual General Meeting (AGM)(ACRA)
* FREE 12 Months Address
- Free Letter Notifications via Email
- Address as Accounting and Corporate Regulatory Authority (ACRA) Registered Address
- Address as Mailing Address
* FREE 12 Months Shared Fax Number
* FREE 12 months Domain Name – .com.sg or .sg by SGNIC
Information Required For Singapore Company Incorporation
3 Proposed Company Names
Business Activities Description (Maximum of 2 activities)
Location of Company Registered Office – A1 Office or your physical office
Director IC copy (Local)
Foreign Director Passport copy, Foreign Address and National Identity Card Copy (Foreigners, if Only)
Shareholder IC Copy (Local)
Shareholder Director Passport copy, Foreign Address and National Identity Card Copy (Foreigners, if Only)
Breakdown of shareholding percentage
Amount of Paid-up capital – Amount to be deposited in the bank, liability of Co., investment by shareholders (Ranges from $1-$10,000)
For more information on Singapore Company Incorporation Promotion, please contact us or call us at 6100 6673.